Welcome to Kult Klassix.
I have had my own workshop in Chiddingfold, Surrey for over 5 years and have been involved with Volkswagens for my whole life. My dad had a split screen camper from before I was born. We used it regularly for family holidays & daily transport. I now own that very same van & it is now under going a full restoration. As a child I have fond memories of a type 3 & type 4 we had. I have worked on hundreds of VW's over the years, & worked for quite a few of the local specialists. I have worked for some of the major parts suppliers too.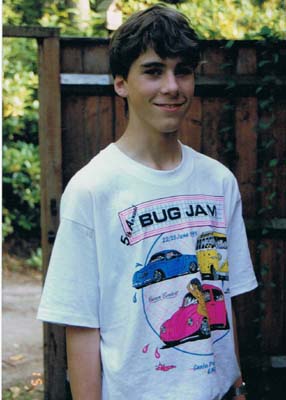 I have now dedicated my time to welding & repairing classic cars. I am able to take on any mechanical work you may require, but welding Volkswagens seems to make up the bulk of my work as I am the obvious choice with me wealth of experience. I have a few projects of my own on the go that I fit in between jobs & hopefully will have another modified split screen camper, I bought as scrap, ready for the summer. I am a regular at many of the VW shows & events throughout the year. The picture on the left is from Bug-Jam 1991, On the right is from my Autocavan days. Please check out my web site & feel free to contact me for a free estimate...